Recent years, relying on continuous technological innovation and expansion of new fields, the quality inspection center has realized the continuous increase of engineering inspection performance and maintained a high growth rate for many years. Among them, some great innovative practices have been carried out in concrete testing, and many remarkable innovative achievements have been achieved, such as C100 super high performance steel fiber reinforced concrete testing, ultrasonic rebound comprehensive method of structural quality assessment, series of concrete mix design with stricter environmental grade, etc.
The C100 super high performance steel fiber concrete is used in the steel-concrete combination section of a municipal bridge in Hubei Province. The strength grade of concrete used in common construction is C40, and the strength grade of concrete used for piers and box girders of high-speed railway is C60. However, the C100 super high performance steel fiber concrete used in this project is not accepted by general testing companies because of its difficult technology. According to the technical requirements provided by customers, the quality inspection center has formulated a feasible testing scheme, such as the testing of expansion cracking inhibitor to limit expansion rate at higher temperature, and the testing of workability, strength, modulus of elasticity, durability and other items to ensure the accuracy and scientificity of the testing data.
The Quality Inspection Center also accepts commissions from Guiyang, Tianjin, Shanxi and other high-speed railway projects to conduct on-site quality assessment of large reinforced concrete structures (box girders, piers, retaining walls, etc.) with quality doubts from one party. The quality inspection center adopts the comprehensive method of ultrasonic rebound, which can detect the internal quality of reinforced concrete structure and ensure the reliability of the quality evaluation on site.
The following picture shows the inspectors inspecting the quality of about 900t box girders (32 m * long, 5.74 m * wide, 13.4 m * high, 3.0 m).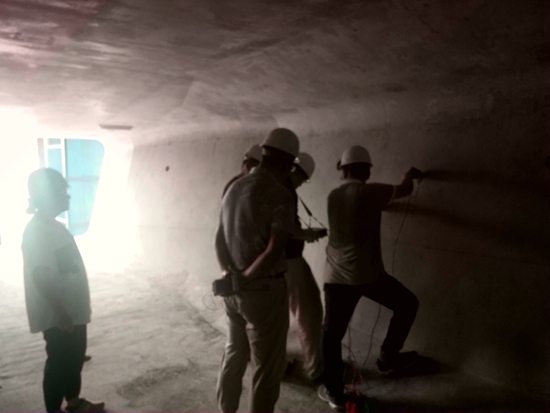 Picture 2 shows the inspectors inspecting the ground of a pier (20m * high, 20m * bottom, 5m * top, 3.5m):
The environmental grade of C20~C60 series concrete commissioned by a high-speed railway project in Ganning is T2, H2, L3, Y2 and D3. The quality inspection center fits in with the construction site. It has been repeatedly demonstrated from the aspects of mix design, testing and verification. Through the adaptability of admixtures, workability, strength, electric flux, frost resistance and air bubble space, the concrete mix design is carried out. The comprehensive analysis of distance coefficient and sulphate corrosion crystallization coefficient can solve the difficult problems in construction site and ensure the practicability of mix ratio.
Through the innovative practice of concrete testing mentioned above, the quality inspection center has effectively solved the difficulties of customer testing, and has won the unanimous praise of customers. It not only improves the technical level of concrete testing and testing, exercises the ability of testing personnel, but also enhances the influence and market share of quality inspection center in the field of Engineering testing.
In order to achieve the goal of "leading in China and well-known in the world", the QC will continue to develop and innovate in the future. Innovation is the first productive force to be put into practice, and move forward in a timely manner! (Xu Tongxin)