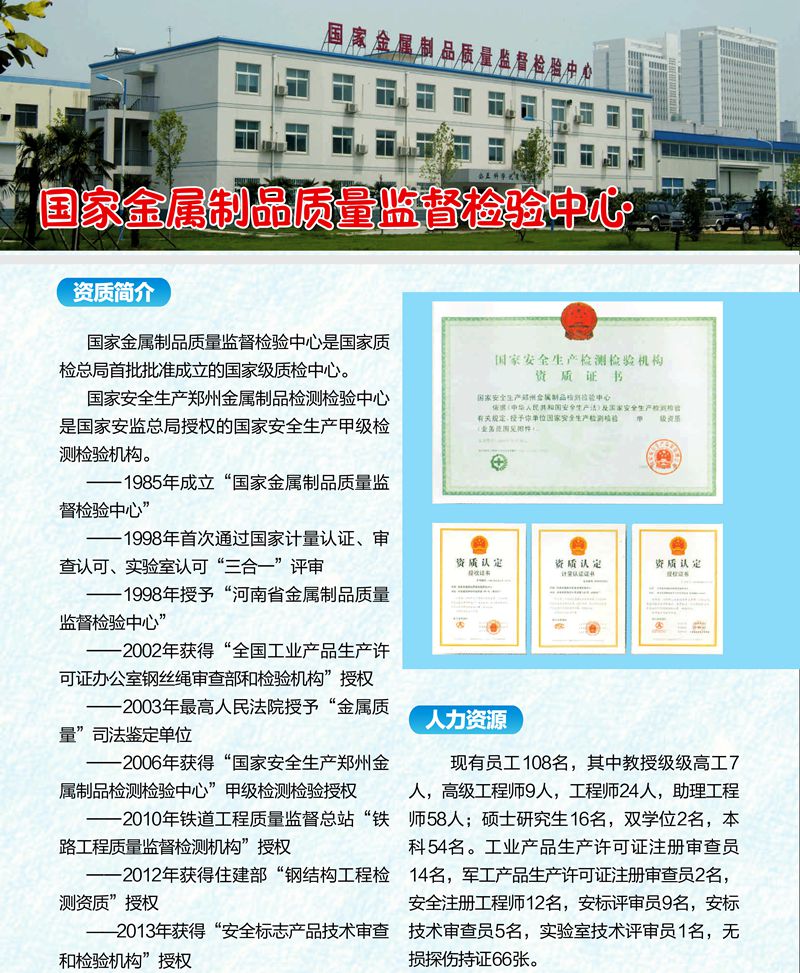 Qualification introduction
This center is a technical inspection organization founded based on the approval of General Administration of Quality Supervision,Inspection and Quarantine of the People's Republic of China. This center is authorized by the State Administration of Work Safety as National safe production Grade A testing laboratory.
The "National Quality Supervision and Inspection Center for Metal Products"was founded in 1985.
In 1998,it first passed the "Qualification Authorization,Metrology Attestation and Laboratory Accreditation"("Three-in-one"review)issued by China(National)Accreditation Committee for
Laboratories.
In 1998,it was awarded as "Henan Provincial Quality supervision and Inspection Station of Metal
Products".
In 2002.the "Steel Wire Rope Inspection Department of National Industrial Products Manufacturing License Offce"
In 2003, it was awarded as the judicial expertise unit on "Metal Products Quality"by the supreme people's court. In Nov.,2006,it passed the check and acceptance of "National Safety Production Zhengzhou Metal Products Testing and Inspection Center"
In 2010, it was awarded as "Railway Engineering Quality Testing Office"by Railway Engineering Quality Supervision Station.
In 2012, it was awarded as "Steel structure engineering testing qualification" by Ministry of Construction. destructive test personnel above GradeⅢ.
In 2013, it was awarded as "Technical review and inspection organizaiton for safty marking products."
Status of resources
It now has 98 staff and workers,among which there are 7 professor senior engineers,9 senior engineers, 24 engineers and 58 asistant engineers 16 Master Degree Candidates, 2 with double degree, 54 with undergraduate degree. 14 manufacturing license examiners of national industrial products,2 manufacturing license examiners of national military products 12 Safty engineers, 9 safety standards auditors, 5 safety standard technical examiners,1 lab technical auditor and 66 non-destructive test personnel above GradeⅢ.
Technical organization
As the member of "National Steel Standardization Technical Committee". "Mechanics and Processing Property Technical Committee"tes director of "Steel Wire and Wire and Wire Rod Technical Committee", Deputy director of the technical committee of the wire rope, deputy head of rigging working group, the center has presided and participated in the establishment and revision, examination and approval of 60 national and industrial fundamental,testing method and products standards of metal products. The center has gained 15 invention and application patents. Its R&D has filled the domestic blank testing equipment more than 20 kinds.
Range of inspection and testing
Up to now,the range of inspection authorized by the state includes 12classes including 984 kinds of products and 1087 parameters and covering steel wire and wire rope,steel products, construction steel,steel structure, fastener, mining equipment pressure vessels,cable,geosynthetics,waterproof material, rubber products,concrete and its raw material, major structure, etc. The combination of ferrous and non-ferrous materials,metal and non- metallic material,destructive and non-destructive inspections,indoors and outdoors inspections has been realized.And the integrated unification of material properties index,integral structure parameter inspection,failure cause analysis and accidental survey arbitration have been realized.It has been widely used to many industries and almost two thousand customers,including highway and railway bridge and seaport construction, municipal engineering, metallurgy machine building,coal mine and non coal mine, petrochemical industry, aerospace, sea facilities, import and export and etc.
Instrument and equipment
It owns SEM, metalloscope, plasma emission spectrometer, atomic absorption spectrophotometer infrared carbon sulfur analyzer, stress relaxometer Stress corrosion testing machine, Static load anchoring test machine, high strength bolt electric detection device, electro hydraulic servo fatigue testing machine, electromagnetic resonance high frequency fatigue testing machine, 0.1kN-600kN electronic universal testing machine, 0.1MN-6.5MN Hydraulic universal testing machine, 5MN-20MN compression-testing machine,various types of hardness tester, various types of steel wire rope bending fatigue testing machine, phased array ultrasonic flaw detector, ultrasonic flaw-detecting machine, X-ray and magnetic power flaw detector Intelligent steel wire rope flaw detector, safety performance testing instrument for all kinds of mine equipment, safety performance test apparatus for conveying belt, safety performance testing instrument for mine cable, concrete series detector, oil and paint detector.
Quality policy:justice,scientific and satisfying customers
Quality targer: the detection result shall be scientific,justice and accurate without serious mistaken report The fine,and timely detection service shall be provided for customers and the customers'satisfaction degree shall be not lower than 95%.
Service commitment:Scinetific method,justice behavior,accurate result,high working efficiency,reasonable charge and customer satisfaction.
Contact:
Tel:0371-67998209 67611405
Fax:0371-67998210
Zip code: 450001
Address:No.70 Science Road, Hi-tech Zone, Zhengzhou