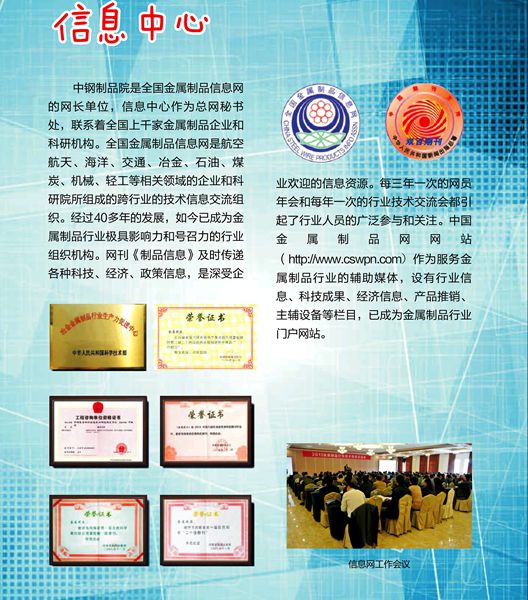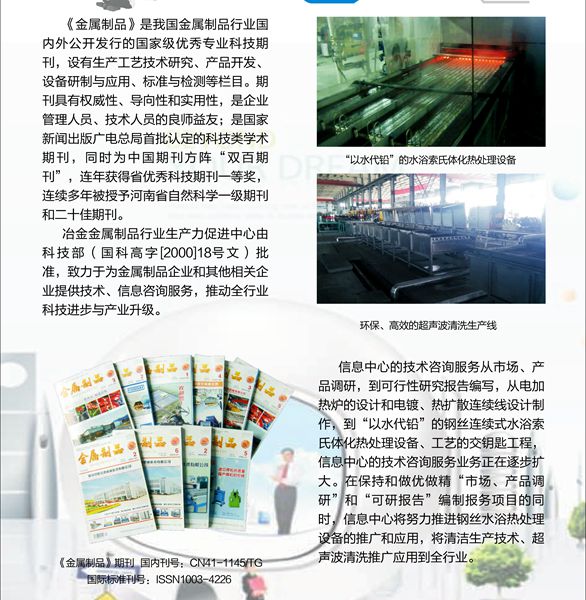 Sinosteel zhengzhou research institute of steel wire products co., ltd. is
the chairman unit of China steel wire products INFO ASSN. As an INFO ASSN secretariat, information center
contacts with thousands of metal products enterprises and scientific research institutions in whole nation. As products industry. Its ASSN periodical the technical information exchange Wire Products Information, which timely organization of multi industrial, the transfers all kinds of scientific, economic and policy information, information ASSN covers the aeronautics is a popular and astronautics, ocean, transportation, information resource. The INFO ASSN metallurgy, petroleum, coal, machinery, members anneal meeting of every three
light industry etc. related field enterprises years and the yearly industry technology and science research institutes. For exchange meeting have attracted wide more than 40 years development, it has participation and attention of industry become the most influential and people. As the auxiliary medium of appealing industry organization in meal serving metal products industry, China M e t a l P r o d u c t s w e b s i t e(http://www.cswpn.com) covers the columns such as industry information,science and technology achievements,
economic information, products promotion, main and auxiliary equipment etc. It has become portal website of
metal products industry.
Metal Products is national excellent specialized science and technology journal in China metal products industry, which is issued openly at home and abroad. It sets columns such as production technology research,
products development, equipment development and application, standard and test etc. The journal has authority, guidance and practicability.It has become the good teacher and helpful friend of enterprise management and technician. The journal has been identified as the first batch science and technology academic journals by State Administration of Press, Publication, Radio, Film and Television, meanwhile it has been identified as the double hundred key journal of "Journal Phalanx", and awarded the first prize of Henan Provincial Excellent Scientific Journals for consecutive years. It has been awarded with the first grade journal and twenty optimum journals of Henan Provencal Natural Science for The technical consulting service provided by many years.
The productivity promotion center of metallurgy and metal products approved by the Ministry of Science and Technology (China science high No.[2000]018) dedicates to provide the technical and information consulting service line to the key delivery engineering projects of for metal products and related enterprises and promoting the scientific advancement and industrial upgrading.
The technical consulting service provided by information center ranges from the investigation and study of market and products to the writing of feasibility research report, from the design of electric heating furnace, design and production of electroplating and thermal diffusion continuous line to the key delivery engineering projects of "substitute water for lead" steel wire continuous water bath sorbitizing heat treatment
industrial upgrading. equipment and technology. Technical consulting service business of information center is
expanding step by step. In the mean time of maintaining and making perfect "investment and study of market and products" and "feasibility research report", the center will try its best to popularize the promotion and
application of steel wire water bath heat treatment equipment, to apply the clean production technology, ultrasonic clean to the whole industry.
Contact:
Tel:0371-67852056 67852059 67852060 67852061
Fax:0371-67852057
Zip Code: 450001
Address:No.26 Huagong Road, Hi-tech Zone,zhengzhou