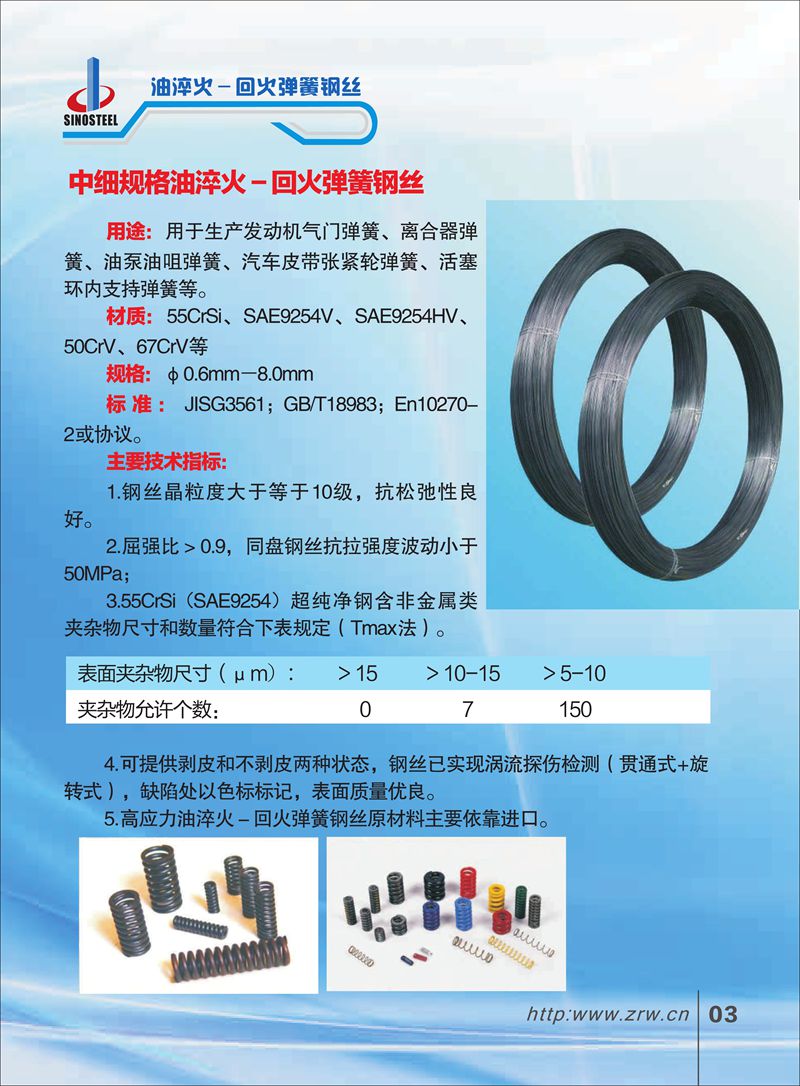 Mid-fine oil quenching-tempering spring steel wire
Use: for engine valve spring, clutch spring, oil pump nozzle spring, auto belt tightening pulley spring, and supporting spring in piston ring.
Material:55CrSi、SAE9254V、SAE9254HV50CrV、67CrV and etc.
Specification: 0.6~8.0mm
Standard: JISG3561-94; GB18983-2003; En102702 :2001 or agreement
Major technical index
The steel wires have their grain size to be larger than grade 10 and have good anti-relaxation performance.

2.The yield ratio is larger than 0.9, and the fluctuation of its tensile resistance degree of the same reel shall be less than 50MPa.
3.Size and quantity standard of non-metallic inclusions of 55CrSi(SAE9254) ultra-clean steel.
4. Of peeling and no-peeling mode, the product has realized eddy-current test (through type and rotary type). The defect is marked red and the surface quality is good.
5.Raw materials for High-stress oil quenching-tempering spring steel wire are mainly imported.
Contact:
Tel:0371-67852016 67852019 67852092
Fax:0371-67852020
Zip Code: 450001
Address:No.26 Huagong Road, Hi-tech Zone,Zhengzhou.